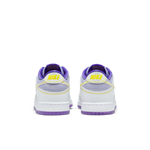 Nike Dunk Low x Union
Draw Ends: Apr. 7, 2022 @ 11am EST
The Nike Dunk Low x Union will be available through online draw starting Monday, April 4th at 12 pm EST and ending Thursday, April 7th at 11 am EST. Winners will be contacted via email by Thursday, April 7th, 2022 by 5 pm EST.
National Draw. As a part of this month's Community Release, Sole Classics is proud to partner with @HuckHouse for a donation draw. To enter for a chance to purchase a pair, CLICK HERE TO ENTER and make a contribution of any amount. Be sure to enter your shoe size in the comment section as well. US Men's Size 5, 6-12, 13, and 14 are available.
 - About Huckleberry House's 'SLEEP OUT' -
3,000 young people ages 14 to 24 will experience homelessness in Columbus in 2021. Another 4,000 will be at risk of homelessness, unsure of where they will sleep on any given night.
At Huckleberry House, a brighter future starts at our front door. From the 96 new apartments opened since the beginning of the COVID-19 pandemic to the 19,691 nights of shelter provided in 2021, we are meeting the needs of homeless and unstably housed youth ages 12 to 24. With a 90% success rate in our Transitional Living Program, we are addressing the long-term self-sufficiency of young people and keeping them out of the adult homeless system.
Proceeds of the SLEEP OUT! benefit the proven programs of Huckleberry House. You can help raise awareness and much-need funds. Donate or sign up to sleep out to become part of the solution.
For more information, please visit HuckHouse.org