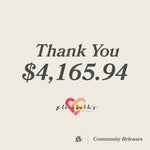 Community Releases: Elizabeth's Project
We released the Nike Dunk Low 'Panda' on Jan. 31, 2022 in men's size 8-12, 13, 14 (Retail $110) and youth size 4-7 (Retail $85). This release was available as this month's Community Release Draw in order to support a local non-profit or small business. This month Sole Classics will be supporting Elizabeth's Project.
Elizabeth's Project is a 501(c)(3) non-profit organization who has been steady with cycling donations. We primarily accept new to gently used clothing, shoes, and household items in order to redistribute to those in need.
As a family who has benefitted from resources provided by our community, Christina and Nakisha Rondo, Co-Founders of Elizabeth's Project, know how important it is to come together when it matters the most and give back. Our family has been involved in the local community right here in Columbus in a variety of ways for many years. We're passionate about the opportunity that we have with our organization to keep the cycle of giving going. We have already accomplished a great deal in such little time and any donations would help us continue our efforts to provide hope and essential resources to people and communities in need.
To find out more, visit ElizabethsProject.org or their IG 
@elizabeths.project