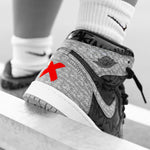 Community Releases: Rebellionaire x Zora's House
Humbled. You all really showed out for this month's Community Release. In just 3 days we received almost 600 entries, and earned $7,796 towards @zorashouse614!!! All winners for the Air Jordan 1 "Rebellionaire" have been notified so please check your spam folder. When humans unite, we are powerful beyond measure.

On behalf of the women of Zora's House and Sole Classics,
Thank You! 
----------
Sole Classics is excited to be one of only a select few doors to offer the Air Jordan 1 "Rebellionaire" on Saturday, March 19. There will be two ways to purchase:

National Draw. As a part of this month's Community Release, Sole Classics is proud to partner with @zorashouse614 for a donation raffle. To enter for a chance to purchase a pair, click the link in our bio and make a contribution of any amount. Be sure to enter your shoe size as well. Winners will be contacted by Friday, March 18, 2022.

As the only co-working and community space in Central Ohio catering specifically to women of color, our mission is to equip women of color with the clarity, confidence, and community they need to live their best lives and do their best work – all within a curated environment of sisterhood and support. For more visit ZorasHouse.com.