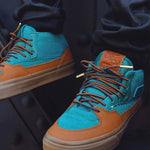 Sole Classics x Vault by Vans "10 Seasons"
Our journey, like most, has seen its fair share of inclement weather. At times we have found ourselves in the middle of what seams like a stretch of great days then, without warning, snow falls. On the other hand, we have also experienced 60 degree days in the middle of December. For our 10 Year Anniversary project with Vans Vault we have decided to draw our inspiration from nature itself, more specifically, the change in seasons in the Midwest. Our Half Cab LX takes on the moniker of "10 Seasons" to represent the unpredictable weather patterns in Ohio, with the colors representing both Spring and Fall.
Our take on the popular silhouette combines Tectuff - an all-weather material designed to keep your foot dry and warm - with nylon, French terry and premium leathers, creating a shoe that is functional enough to be worn year around. The pair also share ten subtle details between the two shoes, with each detail paying homage to a different milestone from our 10 Year history. Tied up with your choice of a boot lace for the Winter, or a premium waxed lace for the warmer seasons; this shoe was built for whatever the day may bring.. So embrace your journey.
Thank you for 10 Years.. we are just getting warmed up. #Sc10Seasons