Terms of Service
TERMS OF SERVICE

-----
Use of the website operated by Kingsrowe, LLC, and their affiliates (collectively, "SOLE CLASSICS," "we," "us," "our") with home pages located at https://www.Sole Classics.com/, any related apps that SOLE CLASSICS may provide, together with all products and services SOLE CLASSICS may offer from time to time via SOLE CLASSICS's website and/or related apps, SOLE CLASSICS's related social media sites and pages (for example, on Instagram, Twitter, and Facebook), or otherwise through your interactions with SOLE CLASSICS (the website, apps, products, services, and social media pages, collectively, the "Services") are subject to the terms and conditions stated herein ("Terms and Conditions").
Your use of the Services through Apple iOS mobile application software is subject to the additional terms set forth in Annex A, which are incorporated herein.
By your use of the Services you agree to these Terms and Conditions, and you certify that you are 18 years old or older and are able and competent to give SOLE CLASSICS rights as detailed in these Terms and Conditions and to comply with these Terms and Conditions. The Services are not intended for individuals under the age of 18.
SOLE CLASSICS reserves the right to refuse service and/or prohibit or terminate access to the Services, in whole or in part, for any or no reason, at any time in its sole discretion, with or without notice to you. Further, your breach of these Terms and Conditions may jeopardize your continued use of the Services and may result in the cancellation of your orders, among other consequences.
THE USE OF ANY ROBOT, SPIDER, OR OTHER AUTOMATIC DEVICE OR SOFTWARE IN CONNECTION WITH THE SERVICES IS STRICTLY PROHIBITED. IN THE EVENT WE REASONABLY DETERMINE THAT ANY ORDER OR ATTEMPTED ORDER WAS MADE BY OR THROUGH USE OF ANY ROBOT OR OTHER AUTOMATIC DEVICE OR SOFTWARE, WE HAVE THE RIGHT, IN OUR SOLE AND ABSOLUTE DISCRETION, TO DENY OR CANCEL ANY SUCH ORDER, TO REFUSE TO ACCEPT ANY RETURNS OR OFFER REFUNDS, AND/OR TO CHARGE RESTOCKING FEES.
BY USING THE SERVICES, YOU AGREE TO ARBITRATE DISPUTES AGAINST SOLE CLASSICS IN YOUR INDIVIDUAL CAPACITY IN ACCORDANCE WITH THE "Arbitration; Class Action Waiver; Jury Trial Waiver; Enforcement of Terms and Conditions; Governing Law" SECTION BELOW AND YOU ARE WAIVING YOUR RIGHT TO ACT AS A PLAINTIFF OR CLASS MEMBER IN ANY PURPORTED CLASS OR REPRESENTATIVE PROCEEDING.
Modifications to These Terms and Conditions
SOLE CLASSICS reserves the right, at any time and without notice, to add to, change, update, or modify these Terms and Conditions simply by posting such addition, change, update, or modification on the Services. Any such change, update, or modification will be effective immediately upon posting on the Services. We suggest that you check these Terms and Conditions periodically for changes.
Your Privacy
To understand how we collect, use and safeguard the information you may provide to us via the Services, including personal information, please review SOLE CLASSICS's Privacy Statement.
Your Account
If you create an account on the Services, you are responsible for maintaining the confidentiality of your account information and password, and for protecting and restricting access to such information. You understand and agree that you are responsible for all activities that occur using your account or password, whether or not you authorized such activity. SOLE CLASSICS reserves the right, in its sole discretion and without notice to you, to terminate your account and/or to restrict access to all or part of the Services for any reason, including, without limitation, for extended periods of inactivity.
Product Descriptions
SOLE CLASSICS endeavors to be accurate when describing and displaying products on the Services. However, items may occasionally be mispriced, described inaccurately, or unavailable (for example, due to delays with respect to updating the Services or our advertising on other websites). Certain weights, measures and similar descriptions are approximate and are provided for convenience purposes only, and fit and sizing may vary between brands, products, and even the same or similar products. The particular technical specifications and settings of your computer and its display could affect the accuracy of its display of the colors of products offered on the Services. As a result, and as set forth in the "Disclaimers" section below, SOLE CLASSICS does not and cannot guarantee the accuracy, reliability, currency or completeness of the information on the Services, including prices, product images, descriptions, specifications, and indications of availability. SOLE CLASSICS reserves the right to change or update information and to correct errors, inaccuracies, or omissions at any time without prior notice.
Pricing and Payment
The price for all goods will be as quoted on the Services. The prices displayed on the Services are quoted in U.S. dollars. Prices and availability information are subject to change without notice. Prices do not include sales tax, where applicable, or delivery costs, both of which you agree to pay upon ordering.
Order Acceptance
All orders placed by you are subject to acceptance by SOLE CLASSICS and all items are subject to availability.
Acknowledgement of your order means that SOLE CLASSICS has received your order request; it does not mean that your order has been accepted or shipped, or that the price or availability of an item has been confirmed. SOLE CLASSICS may in its discretion require additional verification or information before accepting any order.
SOLE CLASSICS reserves the right, without prior notice and in its sole discretion, to refuse or cancel any order for any reason. Some situations that may result in your order being canceled include, but are not limited to: invalid, incomplete, improper, or missing payment or shipping information; limitations on quantities available for purchase; inaccuracies or errors in product or pricing information; use of any robot, spider or other automatic device, software, process or application to place, or take preparatory steps to place, one or more orders; violation of these Terms and Conditions; or actual or suspected fraud or abuse.
SOLE CLASSICS will verify the availability and price of an item before it is shipped. If an item's correct price is lower than the stated price, SOLE CLASSICS will charge the lower amount and ship you the item. If an item's correct price is higher than the stated price, if the item is no longer available, or if SOLE CLASSICS determines that there were inaccuracies in the product information, SOLE CLASSICS may cancel your order and notify you of such cancellation via email.
Limited Release - Purchase Limitation
In an effort to allow fairness for all customers, limited and/or special releases products will be restricted to (1) unit per customer. Please note that multiple orders submitted under the same address will be canceled. Abusive behavior will not be tolerated. Should this pattern continue, your account may be subject to review, and possible banishment, by our Fraud Analysis team. Please feel free to reach out to our Customer Service team if you feel as though your order was cancelled in error. 
Risk of Loss
All purchases through the Services are made pursuant to a shipment contract. This means that the risk of loss and title for such items pass to you upon SOLE CLASSICS's delivery of such items to the shipping carrier. Except as expressly set forth in these Terms and Conditions, you are responsible for filing any claims with the applicable carrier for damaged and/or lost shipments.
Shipping and Returns/Exchanges
Shipping. Once an order is placed it cannot be canceled. Once the order is received, you can send the item back by contacting shop@soleclassics.com.
For domestic orders, please allow at least 3-5 business days for order processing and verification. For international orders, please allow at least 5-7 business days for order processing and verification.
To protect our customers, SOLE CLASSICS is unable to change/intercept the shipping address of a package to alter its delivery, and SOLE CLASSICS will only ship to the address provided at checkout, which must match the billing address. However, you can schedule a pick up at a UPS location or reschedule a delivery date via the UPS My Choice service.
Due to our Fraud Protection Policy, all online orders are required to have identical billing and shipping addresses. To minimize any fraudulent transactions, any orders with different shipping and billing addresses will not be processed.
We are unable to combine shipping on multiple orders.
International
SOLE CLASSICS offers DHL Express shipping for international orders. Customers will be prompted to use our shipping partner, Global-E, upon checkout. By doing so, the customer will have the ability to pre-pay their duties, import fees, and related charges up-front.
Should you wish to return your International order, please note that SOLE CLASSICS does not offer reimbursement of the prepaid customs/duties upon return, since it is remitted to the local customs agency directly. The customer will have to contact the agency for further assistance in receiving such reimbursement.
To begin the return process please email shop@soleclassics.com.
SOLE CLASSICS is not responsible and will not reimburse any duties or taxes resulting from your refusal of delivery or failure to pay additional duties upon arrival. 
Due to contractual agreements with the below vendors, we can no longer offer International shipping/delivery for the following brands:
Asics
Jordan Brand
Nike
New Balance
Vans
Vans Vault
Lost or Stolen Package
As noted above, SOLE CLASSICS is not responsible for any lost or stolen shipments. However, if your package does not arrive, please contact shop@soleclassics.com to initiate a UPS or USPS Claim.
Lost/Non-Issued Original Packaging Contents
SOLE CLASSICS is not held responsible for any missing accessories within a footwear product which are to be provided by the original manufacturer, such as but not limited to: spare shoelaces, original tissue paper, hangtags, deubré, shoe trees/horns, etc. SOLE CLASSICS is not responsible for issues relating to original footwear boxes delivered with slight and/or significant imperfections. We do not provide any form of reimbursement for this matter. 
Return/Exchange Policy
For your convenience, SOLE CLASSICS offers our customers the option to return certain products for exchange or store credit within 14 days of purchase. Certain products are non-returnable (including, but not limited to, "Launch" product, "Final Sale" items, international orders, and Sole Classics Footwear Collections. "Final Sale Items" include sale items, hats, underwear, socks, swimwear, gloves, collaborative footwear releases, SOLE CLASSICS footwear releases, and other items listed as not returnable. IN ADDITION, IF WE REASONABLY DETERMINE THAT A PURCHASED PRODUCT THAT MIGHT OTHERWISE BE ELIGIBLE FOR RETURN WAS ORDERED THROUGH THE USE OF A ROBOT OR OTHER AUTOMATIC DEVICE OR SOFTWARE, WE RESERVE THE RIGHT, IN OUR SOLE AND ABSOLUTE DISCRETION, TO REFUSE ANY SUCH RETURN, TO REFUSE TO OFFER ANY REFUND, AND/OR TO CHARGE A RESTOCKING FEE.
For all exchanges, please email shop@soleclassics.com. Please use the email used for your order and follow the instructions given by our staff. The packaging must be intact and the product must be unused with all tags attached. Any footwear returned must be returned with the original box. PLEASE NOTE THAT RETURNS OR EXCHANGES WITHOUT PROPER DOCUMENTATION, PACKAGING, AND/OR MATERIALS CANNOT BE ACCOMMODATED. SOLE CLASSICS reserves the right to charge a restocking fee for returns in violation of these Terms and Conditions, including items returned damaged or missing packaging or documentation, or for items that we reasonably determine were ordered through use of a robot or other automatic device or software.
Any SOLE CLASSICS product that is delivered defective may be sent back to our store for a full refund or replacement if the product is available. For any factory flaws (i.e. broken strap, torn heel tab or loose stitching after a few wears) please contact the manufacturer directly to open a damaged product claim. SOLE CLASSICS does not accept any worn or damaged products as returns. For returns, customers will be granted an online gift card equal to the amount paid for the item(s) returned, minus an $8 restocking fee. Original shipping cost will not be reimbursed. A shipping label will be generated upon request of a return or exchange. The online store credit is not transferable to our brick and mortar SOLE CLASSICS locations.
License for Personal Use
Subject to these Terms and Conditions, you are hereby granted a personal, non-exclusive, revocable, non-transferrable license to use the Services and view the content, functionality, software, information, data, products, and materials contained, described, referenced, or available on the Services (collectively, "Materials") for your personal and non-commercial purposes. Neither title nor intellectual property rights are transferred to you, but remain with SOLE CLASSICS, who, along with its licensors, is the exclusive owner of all rights, title and interest therein. Except as otherwise expressly provided, all rights are reserved to SOLE CLASSICS.
In connection with this license, you may download Materials, provided that you do not modify or alter the Materials in any way, nor delete, obscure, or change any copyright, trademark, or other intellectual property notice therein.
You may include a link to the SOLE CLASSICS website on one or more other websites operated by you, provided such websites link to the home page (http://www.soleclassics.com) only and you are not linking from any site or service that violates any of the below "Restrictions on Use" or that is or contains Malicious Code (as defined below) and/or content that is disparaging, abusive, harassing, illegal, discriminatory, fraudulent, or violates the intellectual property, privacy, or other rights of SOLE CLASSICS or any person or entity. Linking to other content within the Services is prohibited without SOLE CLASSICS's prior express written consent. This limited license expressly prohibits the framing of SOLE CLASSICS content in any way or any other activity that may confuse, misdirect, or misrepresent with respect to sponsorship or affiliation.
Restrictions on Use
You agree that you shall not:
(a) Copy, reproduce, modify, use, republish, upload, post, transmit, sell, resell, license, rent, lease, lend, otherwise distribute or commercially exploit in any way, decompile, reverse engineer, disassemble, otherwise attempt to derive source code from, or modify or create derivative works based on, the Services or any Materials obtained from or through the Services;
(b) "Frame" or use the Services or any Materials in any way that might confuse, misdirect, or misrepresent their source, or sponsorship or affiliation thereof or therewith;
(c) Use any robot, spider or other automatic device, manual process or application or data mining or extraction tool to access, monitor, copy or use the Services or any Materials, interfere with product inventory or availability, or place or take preparatory steps to place orders for products, goods, or services;
(d) Take any action that imposes an unreasonable or disproportionately large load on the Services;
(e) Take any action in connection with your use of Services or Materials which violates any applicable local, state, national or international law, rule, regulation or order of any court in conjunction with your use thereof; or
(f) otherwise use the Services for any unlawful or abusive purposes, including, but not limited to, the violation of any intellectual property rights (whether belonging to SOLE CLASSICS or third parties) and the posting or distribution of any "harmful" or "malicious" code or programming devices (e.g., viruses, malware, ransomware, corrupted files, key locks, back doors, trap doors, timers or other disabling devices) or any other similar software or programs that may adversely affect the operation of the Services or any other software, hardware, network or other technology (collectively, "Malicious Code").
FINALLY, DO NOT USE THE SERVICES WHILE OPERATING A MOTORIZED VEHICLE OR WALKING. SUCH USE MAY DISTRACT YOU AND/OR MAY CREATE A HAZARD FOR YOU OR OTHERS AND IS ILLEGAL IN MANY AREAS.
Proprietary Materials
All Services and Materials, any improvements or modifications to such Services and Materials, any derivative works based thereon, and the collection, arrangement and assembly of all such Services and Materials, are, except as otherwise expressly stated herein, owned exclusively by SOLE CLASSICS or its licensors, and SOLE CLASSICS (and, as applicable, its licensors) reserve all rights therein. The contents of the Services and Materials are protected by United States and worldwide copyright and intellectual property laws and treaty provisions. The trademarks, service marks, trade names, logos, and other identifiers used in or in connection with the Services and Materials are the proprietary service marks or trademarks of SOLE CLASSICS, its licensors, or third parties, and are protected in the United States and internationally. No copying, modification or use of any of these marks or identifiers may be made without the prior, written authorization of SOLE CLASSICS or its licensors (as applicable). Except as expressly set forth above, nothing in this Agreement shall be deemed to grant to you or any other individual or entity any license or right in or to any copyright, trademark, trade secret or other proprietary right, whether owned by SOLE CLASSICS, its licensors, or any other person.
Disclaimers
THE SERVICES AND ALL MATERIALS ARE PROVIDED TO YOU ON AN "AS IS" AND "AS AVAILABLE" BASIS, WITHOUT REPRESENTATIONS OR WARRANTIES OF ANY KIND, EXPRESS OR IMPLIED, INCLUDING, WITHOUT LIMITATION, (a) ANY IMPLIED WARRANTY OF MERCHANTABILITY, FITNESS FOR A PARTICULAR PURPOSE, NONINFRINGEMENT, OR TITLE; (b) ANY WARRANTY REGARDING THE AVAILABILITY, ACCURACY, RELIABILITY, OPERATION, USE, OR PERFORMANCE OF THE SERVICES OR MATERIALS; (c) ANY WARRANTY THAT DEFECTS WILL BE CORRECTED OR THAT THE SERVICES, MATERIALS, AND/OR THE SERVER(S) AND CONNECTIONS THAT MAKE THEM AVAILABLE WILL BE UNINTERUPTED, SECURE, OR FREE OF ERRORS OR MALICIOUS CODE; AND (d) ANY IMPLIED WARRANTIES ARISING FROM COURSE OF DEALING OR COURSE OF PERFORMANCE.
IN ADDITION, SOLE CLASSICS CANNOT AND DOES NOT REPRESENT, GUARANTEE OR WARRANT THAT THE MATERIALS ACCESSIBLE ON OR VIA THE SERVICES ARE ACCURATE, CORRECT, COMPLETE, RELIABLE, OR CURRENT, AND SOLE CLASSICS IS NOT RESPONSIBLE FOR ANY ERRORS OR OMISSIONS THEREIN, OR ANY CONSEQUENCES RESULTING FROM YOUR RELIANCE ON SUCH INFORMATION.
Limitations of Liability
TO THE EXTENT PERMITTED BY APPLICABLE LAW, NEITHER SOLE CLASSICS, ITS PARTNERS, NOR ANY OF ITS OR THEIR THIRD PARTY PROVIDERS OR LICENSORS WILL BE LIABLE TO YOU OR ANY THIRD PARTY FOR ANY DIRECT, INDIRECT, SPECIAL, INCIDENTAL, EXEMPLARY, PUNITIVE, AND CONSEQUENTIAL DAMAGES, EVEN IF SOLE CLASSICS HAS BEEN PREVIOUSLY ADVISED OF THE POSSIBILITY OF SUCH DAMAGES, WHETHER IN AN ACTION UNDER CONTRACT, NEGLIGENCE OR ANY OTHER THEORY, ARISING OUT OF OR IN CONNECTION WITH THE USE, INABILITY TO USE, OR PERFORMANCE OF THE SERVICES, OR ANY MATERIALS, PAGES, OR CONTENT ACCESSIBLE VIA THE SERVICES, nor will SOLE CLASSICS, ITS PARTNERS, or any of ITS OR THEIR Third Party Providers OR LICENSORS be responsible for any damages whatsoever that result from mistakes, omissions, interruptions, deletion of files, errors, defects, delays in operation or transmission, or any failure of performance whether or not caused by events beyond THEIR reasonable control, including but not limited to acts of God, communications line failure, theft, destruction, or unauthorized access to our records, MATERIALS, or Services.
TO THE EXTENT PERMITTED BY APPLICABLE LAW, SOLE CLASSICS'S AGGREGATE LIABILITY UNDER THIS AGREEMENT, COMBINED WITH THAT OF SOLE CLASSICS'S PARTNERS AND ITS AND THEIR THIRD PARTY PROVIDERS AND LICENSORS, WHETHER IN CONTRACT, TORT OR OTHERWISE, SHALL NOT EXCEED AN AMOUNT EQUAL TO THE TOTAL AMOUNTS YOU PAID TO US UNDER THIS AGREEMENT; PROVIDED, HOWEVER, THAT THE FOREGOING LIMITATION ON LIABILITY SHALL NOT APPLY WITH RESPECT TO ANY LIABILITY ARISING FROM GROSS NEGLIGENCE OR WILLFUL MISCONDUCT.
Indemnification
To the extent permitted by applicable law, you agree to indemnify and hold SOLE CLASSICS, its partners, its licensors, and its and their affiliates, members, officers, directors, managers, partners, employees, consultants, temporary resources, agents, suppliers, providers, contractors, subcontractors, licensors, successors, transferees, and assignees harmless from and against any and all damages, liabilities, actions, causes of action, suits, claims, demands, losses, costs and expenses (including without limitation reasonable attorneys' fees, disbursements and court costs, including any incurred in enforcement of this indemnification provision) arising from or in connection with (a) your use of the Services, or any Materials, content, information, or services contained, displayed, available or accessible on or from the Services; (b) your violation of these Terms and Conditions; (c) any Submission (as defined below) provided by you to SOLE CLASSICS; or (d) your violation of any rights of any third party.
Third-Party Links
The Services may provide links or references to third party websites, mobile applications, services, or materials which are not provided by, related to, or maintained by SOLE CLASSICS. SOLE CLASSICS has no responsibility for the content thereof, regardless of whether the link is provided by SOLE CLASSICS or a third party, and SOLE CLASSICS shall not be responsible or liable for any damages or injury arising from your access to or use of that content. You should review any Terms and Conditions and Privacy Policies or Statements (and similar documents) associated with such third-party websites, applications, services, or materials before use.
The display of any link shall not and does not constitute or imply endorsement by SOLE CLASSICS or its partners or its and their licensors of the linked website or any content therein. No judgment or warranty is made with respect to the accuracy, timeliness, or suitability of the content of any website to which the Services may link, including information on such other website regarding SOLE CLASSICS or its partners.
Submissions
While SOLE CLASSICS appreciates your comments and is happy to answer your questions about our products, our services, and our company, we generally do not accept ideas, know-how, inventions or suggestions for products and services ("Submissions"). This is for your protection and for ours, and to avoid misunderstanding about the origin of Submissions between you and SOLE CLASSICS.
Please note that any Submissions, remarks, graphics, or other information provided by you by any means, including through the Services, email, a "Contact Us" form, any "Live Chat" functionality on the Services, or otherwise, is and will be non-confidential and non-proprietary, except to the extent that such contains or constitutes personal information, which is subject to the guidelines established in our Privacy Statement. 
Arbitration; Class Action Waiver; Jury Trial Waiver; Enforcement of Terms and Conditions; Governing Law
You acknowledge and agree that the terms contained in this Terms and Conditions are reasonable and necessary, and that your actual or threatened breach of this Terms and Conditions would give rise to irreparable harm to SOLE CLASSICS for which monetary damages would not constitute an adequate remedy and, in addition to any and all other rights that may be available in respect of such breach or threatened breach, will entitle SOLE CLASSICS to immediate injunctive and other equitable relief without any requirement to post bond.
These Terms and Conditions are governed and interpreted pursuant to the laws of the State of Ohio, United States of America, notwithstanding any principles of conflicts of law. SOLE CLASSICS makes no representation that Materials provided through the Services are applicable or appropriate for use in all locations. If you use the Services from other locations you are responsible for compliance with applicable local laws. If you take legal action relating to these Terms and Conditions or your interactions with or relationship to SOLE CLASSICS that is not subject to arbitration as provided below, you agree to file such action only in the state and federal courts located in Franklin County, Ohio and waive any objection you may have to the venue or forum.
Any controversy or claim between you and SOLE CLASSICS arising out of or relating to these Terms and Conditions, or breach thereof, including disputes with respect to whether the subject matter of any controversy or claim is within the scope of the Terms and Conditions, will be resolved by binding arbitration in Franklin County, Ohio under the Commercial Arbitration Rules of the American Arbitration Association ("AAA") and administered by the AAA. The parties explicitly disclaim any applicability of the U.N. Convention on Contracts for the International Sale of Goods to these Terms and Conditions. All arbitration proceedings will be conducted in English. Such arbitration will have one (1) neutral arbitrator if the amount in controversy is less than one million dollars ($1,000,000) or otherwise before a panel of three (3) neutral arbitrators. Each of the arbitrators must be i) a lawyer licensed to practice law in the United States with a minimum of fifteen (15) years of legal practice or senior level business experience or a retired judge with a minimum of five (5) years of service on the bench, ii) an individual with at least five (5) years of experience as an arbitrator, and iii) on the roster of neutrals of the AAA or similar nationally recognized ADR organization. If the arbitration proceedings shall be conducted before a panel of three neutral arbitrators, the panel shall be selected using the following process: Within fifteen (15) days after the commencement of arbitration, SOLE CLASSICS and you shall each select one person meeting the specified qualifications to act as neutral arbitrator, and the two thus selected shall select a third neutral arbitrator meeting the specified qualifications within fifteen (15) days of their appointment. The third neutral arbitrator shall act as the chair of the arbitration panel. If the arbitrators selected by SOLE CLASSICS and you are unable to or fail to agree upon the third arbitrator, the third arbitrator shall be selected by the AAA.
Neither you nor SOLE CLASSICS will participate in a class action or class-wide arbitration for any claims covered by these Terms and Conditions. Any dispute resolution proceeding will be conducted only on an individual basis and not in a class, consolidated or representative action. IF FOR ANY REASON A CLAIM PROCEEDS IN COURT RATHER THAN IN ARBITRATION, YOU WAIVE, TO THE FULLEST EXTENT PERMITTED BY LAW, ANY RIGHT TO TRIAL BY JURY IN ANY ACTION, SUIT, CLAIM OR PROCEEDING BROUGHT TO ENFORCE, DEFEND OR INTERPRET ANY RIGHTS OR REMEDIES ARISING HEREUNDER, RELATING TO OR IN CONNECTION WITH THESE TERMS AND CONDITIONS.
If any part of these Terms and Conditions is found to be unlawful, void or unenforceable, that part will be deemed severable and will not affect the validity and enforceability of remaining provisions.
Assignment
You may not assign or otherwise transfer these Terms and Conditions or any rights or obligations hereunder, in whole or in part, and any such assignment in violation of this Agreement shall be null and void. The failure of SOLE CLASSICS to exercise or enforce any right or provision set forth herein shall not constitute a waiver of such right or provision. These Terms and Conditions set forth the entire understanding between you and SOLE CLASSICS with respect to the subject matter hereof and supersede any prior or contemporaneous communications, representations, or agreements, whether oral or written, between you and SOLE CLASSICS with respect to such subject matter.
Amendments and Modifications to the Services
SOLE CLASSICS reserves the right to make changes to the information, data, and Materials provided on the Services at any time without notice. SOLE CLASSICS also reserves the right to modify or discontinue the some or all of the Services, or any Materials contained or accessible thereon, at any time without prior notice. SOLE CLASSICS shall in no way be held liable for any consequence which results from SOLE CLASSICS's decision to modify or discontinue providing the Services or any content or functionality thereof.
Miscellaneous
You guarantee that (i) you are not located in a country that is subject to U.S. Government embargo, or that has been designated by the U.S. Government as a "terrorist supporting" country, and (ii) you are not listed on any U.S. Government list of prohibited or restricted parties.
SOLE CLASSICS expressly reserves the right to monitor any and all use of the Services. SOLE CLASSICS also reserves the right to investigate and take legal action against any against any illegal and/or unauthorized use of the Services and/or Materials. SOLE CLASSICS's decision not to pursue legal action for any violation of this Agreement shall not be construed as a waiver of any provision of this Agreement or any of SOLE CLASSICS's legal rights.
These Terms and Conditions constitute the entire agreement between you and SOLE CLASSICS with respect to the subject matter hereof and supersede all prior or contemporaneous agreements, understandings, and representations, whether written, oral, or otherwise.
Contact Information
Questions regarding these Terms and Conditions should be directed to:
Attn: Customer Service
SOLE CLASSICS
846 N. High St.
Columbus, OH. 43215
shop@soleclassics.com
Annex A: Apple iOS Applications 
The following additional terms apply to your use of the Services (as defined in the Terms and Conditions above) through Apple, Inc. ("Apple") iOS mobile application software programs purchased or made available through the App Store ("App Services"), and are in addition to the Terms and Conditions above, which are incorporated herein by reference.
The Terms and Conditions are entered into and binding between you and SOLE CLASSICS, and not Apple, and as between SOLE CLASSICS and Apple, SOLE CLASSICS is responsible for the App Services and their content, subject to the limitations and disclaimers contained in the Terms and Conditions. Apple has no obligation whatsoever to furnish any maintenance and support with respect to the App Services. Apple is not responsible for addressing any claims by you or any third party relating to the App Services, including but not limited to: (a) product liability claims; (b) any claim that the App Services fail to conform to any applicable legal or regulatory requirement; and (c) claims arising under consumer protection or similar legislation. In the event of any third-party claim that the App Services or your possession and use of the of the App Services infringes that third party's intellectual property rights, SOLE CLASSICS, not Apple, will be solely responsible for the investigation, defense, settlement, and discharge of any such intellectual property infringement claim. 
You are only permitted to use the App Services on any Apple-branded products that you own or control, and as permitted by the App Store Terms of Service, except that the App Services may be accessed, acquired, and used by other accounts associated with the purchaser via Apple's Family Sharing functionality or volume purchasing.
SOLE CLASSICS is providing the App Services AS-IS, and disclaims all warranties of any kind, express or implied, as fully set forth in the Terms and Conditions. To the extent any warranty is nevertheless adjudged to exist by a court of law or other legal authority with respect to the App Services, and is not effectively disclaimed by the Terms and Conditions, however, SOLE CLASSICS, and not Apple, is responsible for any such warranty term with respect to the App Services. Apple's sole warranty obligation in such circumstances is limited to refunding the App Store purchase price of the particular App Services upon receipt of notification from you that the App Services failed to conform to the applicable warranty, and to the maximum extent permitted by law, Apple will have no other warranty obligation whatsoever with respect to the App Services, and any other claims, losses, liabilities, damages, costs, or expenses attributable to any failure to conform to any warranty shall be SOLE CLASSICS's sole responsibility.
You must comply with any applicable terms of third-party agreements relating to your use of the App Services.
You acknowledge that Apple and its subsidiaries are third-party beneficiaries of the Terms and Conditions with respect to the App Services, and that, upon your acceptance of the Terms and Conditions, Apple will have a right (and will be deemed to have accepted the right) to enforce the Terms and Conditions against you with respect to the App Services as a third-party beneficiary thereof.
846 N. High St. 43215
Open Daily
Monday - Thursday: 11:00 AM until 7:00 PM
Friday - Saturday: 11:00 AM - 8:00 PM
Sunday: 12:00 PM - 6:00 PM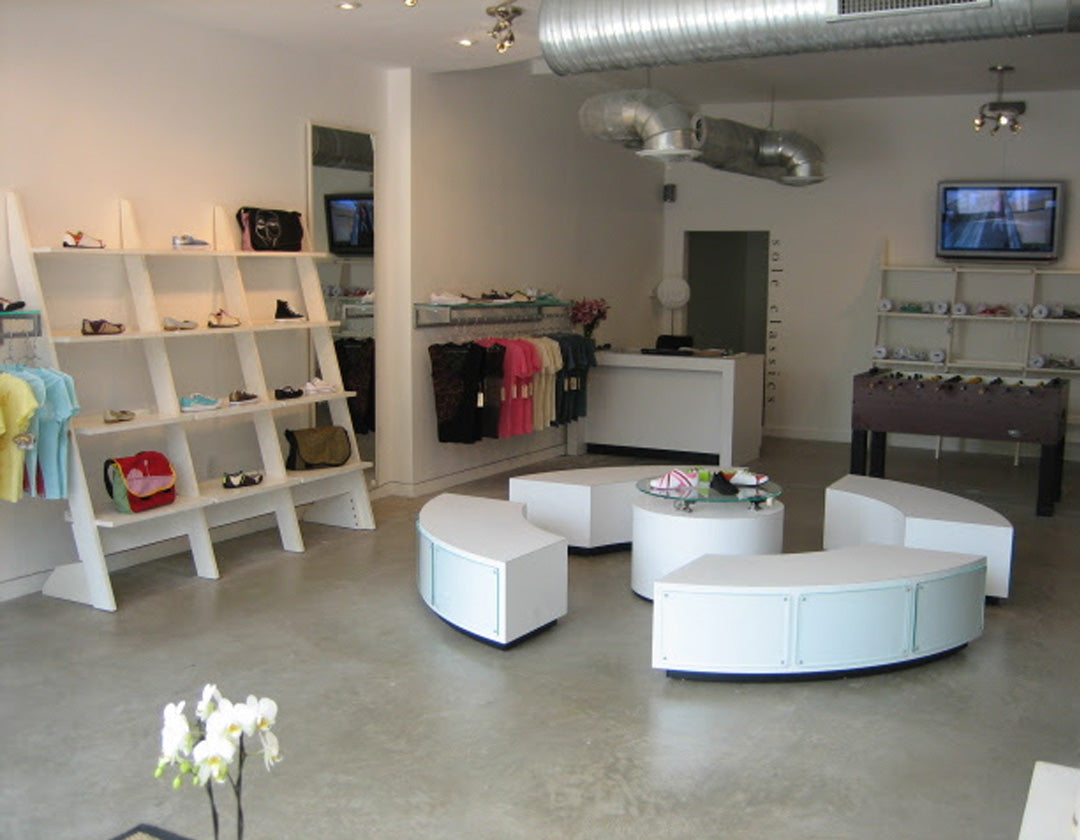 2006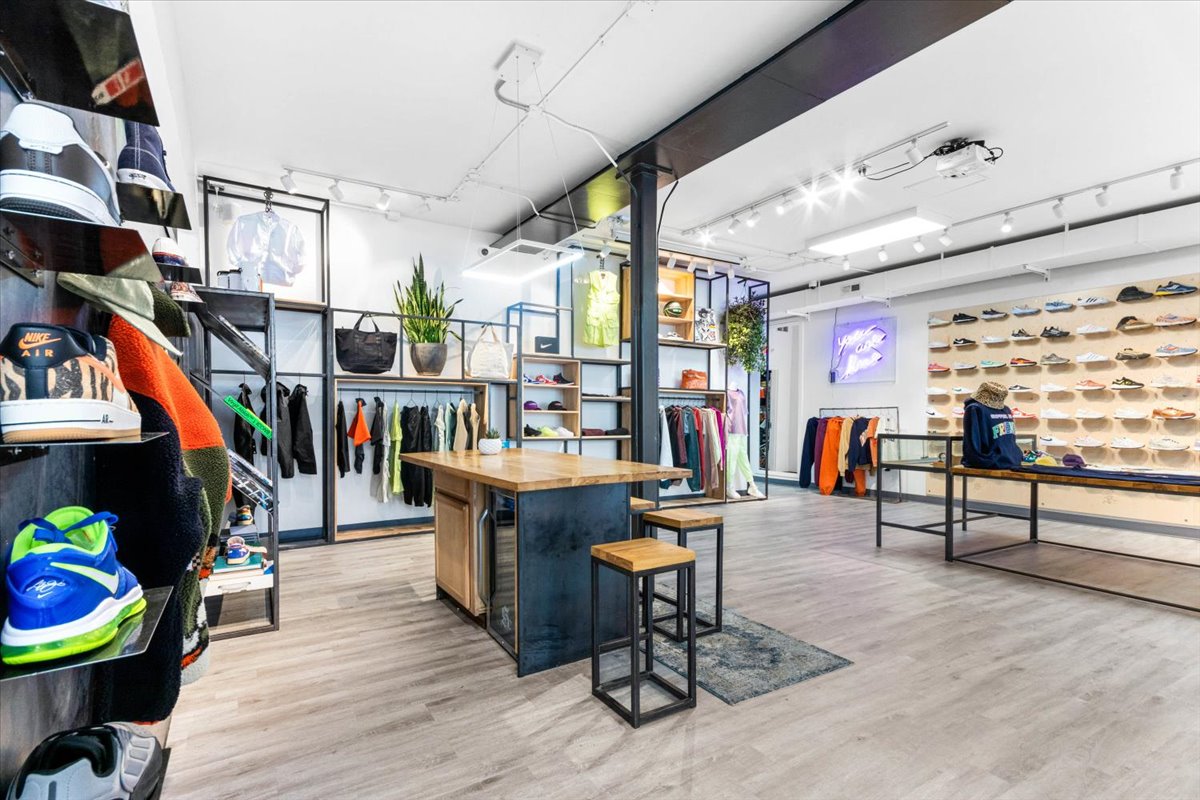 The Dynasty on High Street
Together.
Established in 2006, Sole Classics is a hub for sneaker culture and urban fashion enthusiasts. We've carved a niche in the industry by specializing in limited-edition footwear, apparel, and accessories, catering to those with an insatiable appetite for unique style. However, our unwavering commitment to the people is what truly sets us apart, whether through customer service or activations that strengthen our community. We are more than just a shop; we're the core of a network of like-minded individuals passionate about sneakers and streetwear. Our collaborative spirit extends beyond our curated collections, fostering connections within our community, and supporting local artists and brands. We're not just a destination; we're your partners in cultivating your personal style, providing a comprehensive range of services to fulfill all your fashion needs while keeping our "people first" ethos at the heart of everything we do. At Sole Classics, we're not just a store; we're a community-driven destination, where style, passion, and innovation intersect.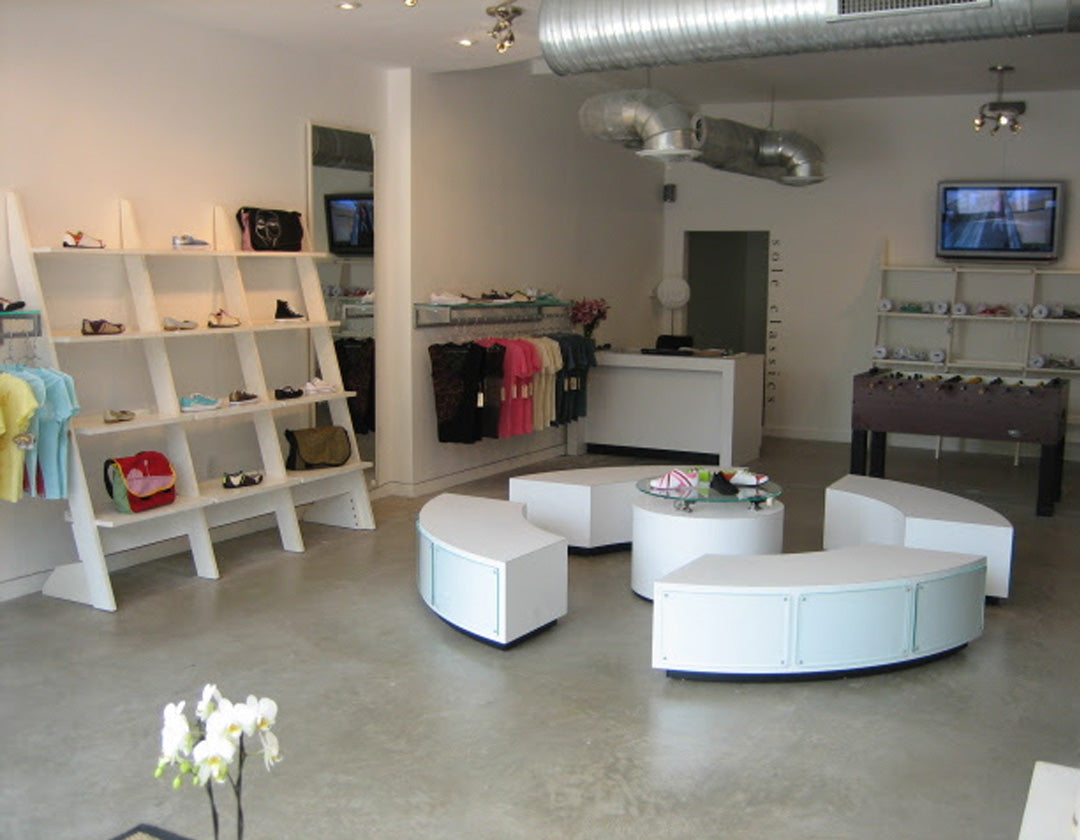 It started with an idea
765 North High
Established on June 5th, 2006 in the Short North, Sole Classics is a sneaker and lifestyle boutique founded by former owners Aaron Conroy and Chris Davis. It is the first business of its kind in Columbus, Ohio, catering to sneaker enthusiasts and those interested in urban and streetwear fashion.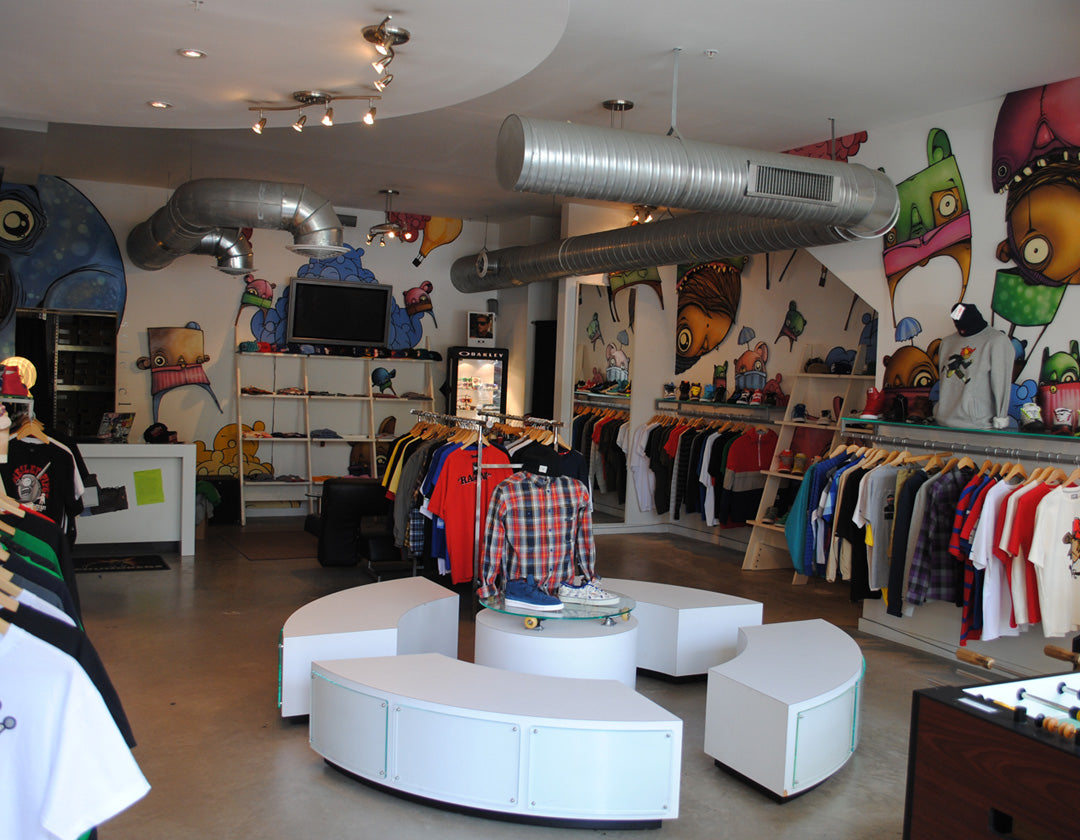 A foundation for the future
A New Era
On February 1st, 2010, Sole Classics was purchased by Dionte' Johnson, a former Ohio State football captain and Columbus native. Johnson continues to own and operate the business to this day. This change in ownership represents a significant milestone in the history of the store and its growing presence outside of Central Ohio.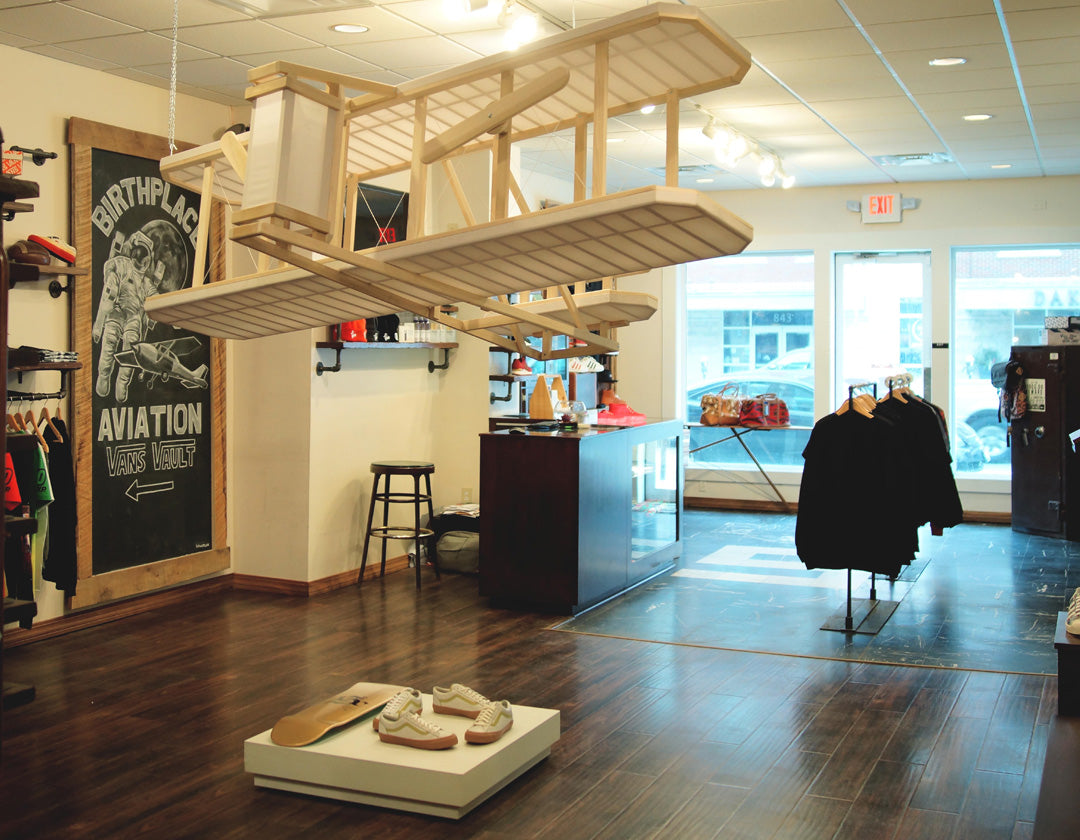 A staple in the neighborhood
Prime Time
In early 2014, Sole Classics relocated from its original address at 765 North High Street to its current location at 846 North High Street. This move allowed the shop to double in size and presented a new opportunity for Sole Classics to grow its brand roster and service offerings. The new address birthed shop services such as delivery, sneaker cleaning, in-store pick-up, and more.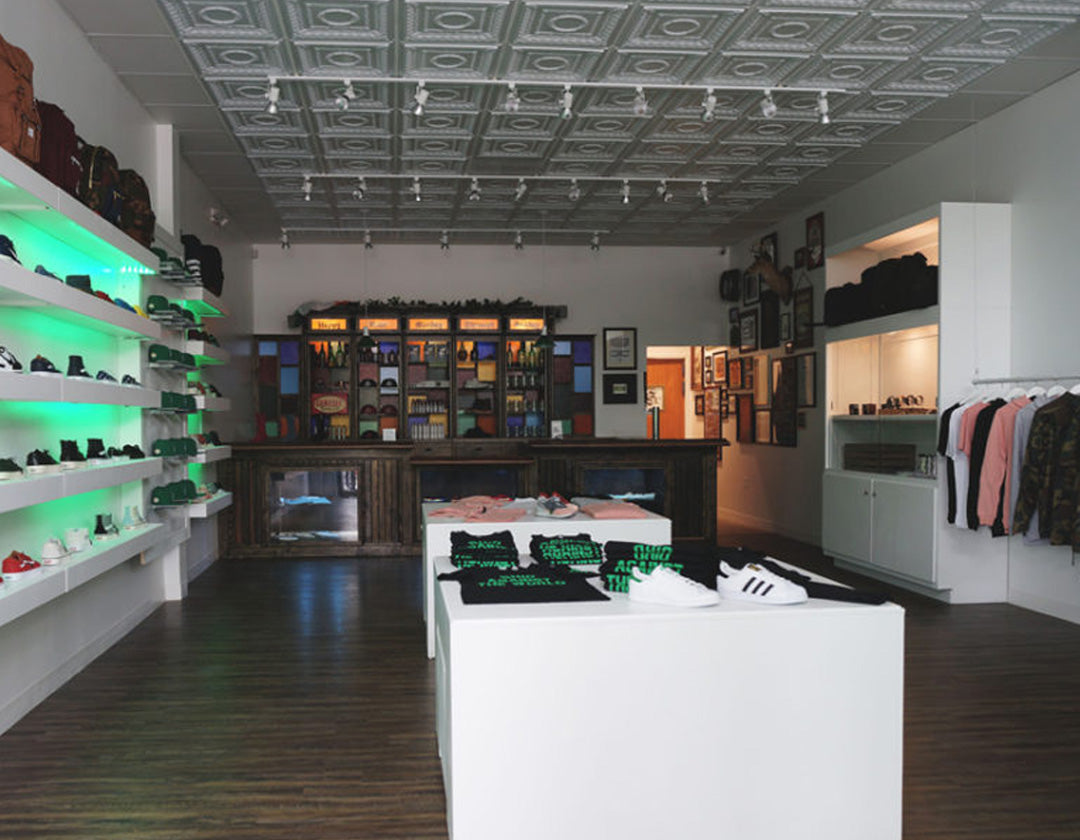 Failure is never final
6391 Sawmill
In the beginning of 2017, Sole Classics took a significant step forward, launching its second establishment, known as Sole Classics Dublin. This new location represented a major achievement in the company's history, offering the chance to connect with and serve a fresh community while maintaining proximity to its roots. In a nod to Irish traditions, the standout feature of this location was its cash register area, designed like a bar at a pub, complete with a fully operational tap dispensing complimentary root beer throughout the week, from opening to closing time.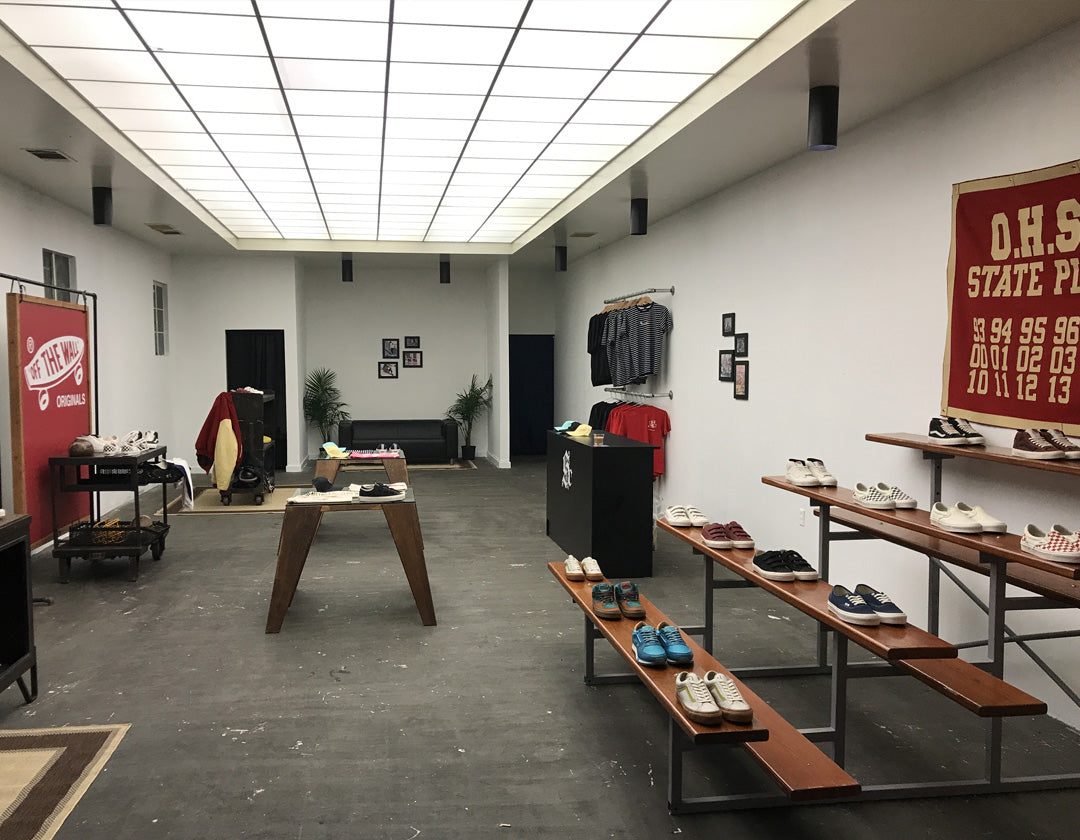 It was written
Midwest Coast
The summer of 2017 marked a super exciting moment for Sole Classics as the brand ventured beyond the city limits! Setting up a temporary pop-up shop in what was prophetically named the "Midwest Coast." This pop-up was all about showcasing the next three footwear projects, made in cahoots with longtime family over at Vans. Having already teamed up on four Vault projects before this both agreed on the opportunity to take the show on the road for a month-long retail experience full of footwear, merchandise, and Midwestern spirit.
This pop-up paradise sat right on the corner of the legendary Fairfax and Rosewood in sunny Los Angeles, a spot made famous by the streetwear giants, "The Hundreds." It was exactly what collaboration should be.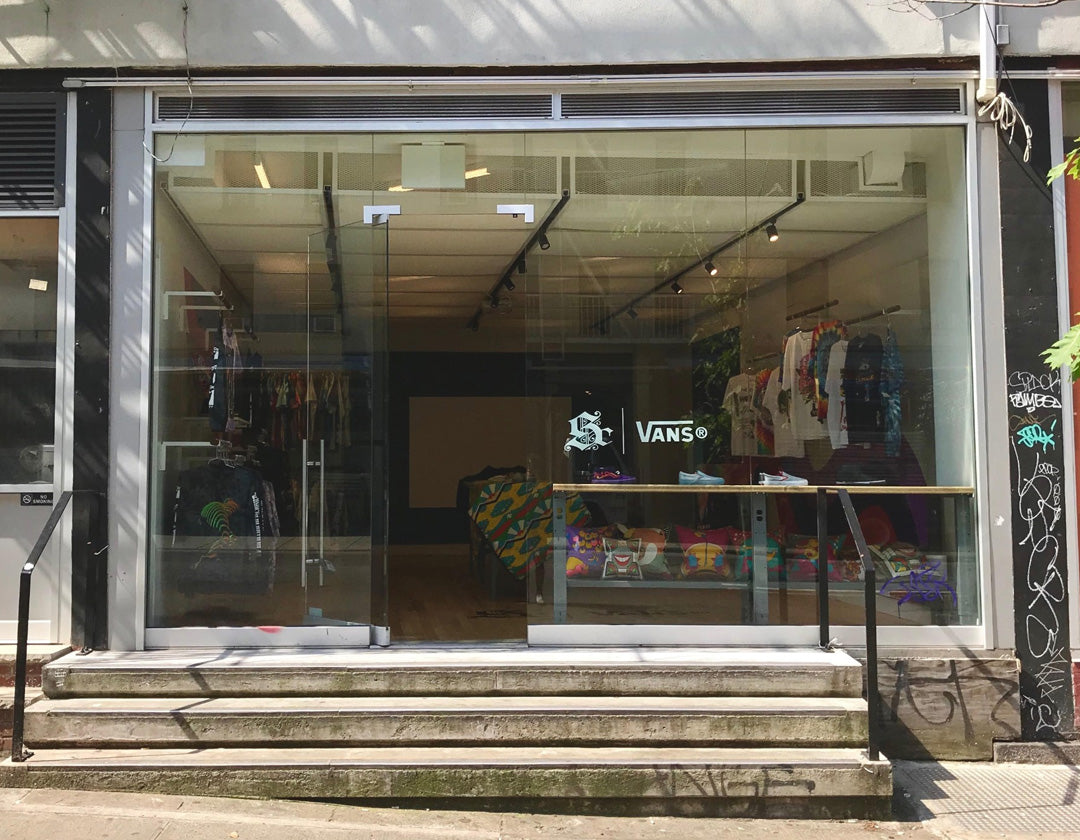 From the Short North to SOHO
A Kenmare Experience
Having taken a unique break from collaborating with Vans, Sole Classics found itself back in the game in the summer of 2019. Sole Classics was presented with a golden opportunity to follow up their successful West Coast pop-up by putting on an encore performance on the East Coast, right in the heart of New York City.
This time around, the collection paid homage to Ohio's profound influence on the music industry, particularly the funky sounds that had a lasting impact and served as a wellspring of inspiration for future generations. Sole Classics didn't just open up shop anywhere; it set up camp in the trendy SOHO neighborhood on Kenmare Street. This week-long extravaganza featured a wide array of offerings, including footwear, Sole Classics branded goodies, and an extraordinary vintage collection that was truly out of this world.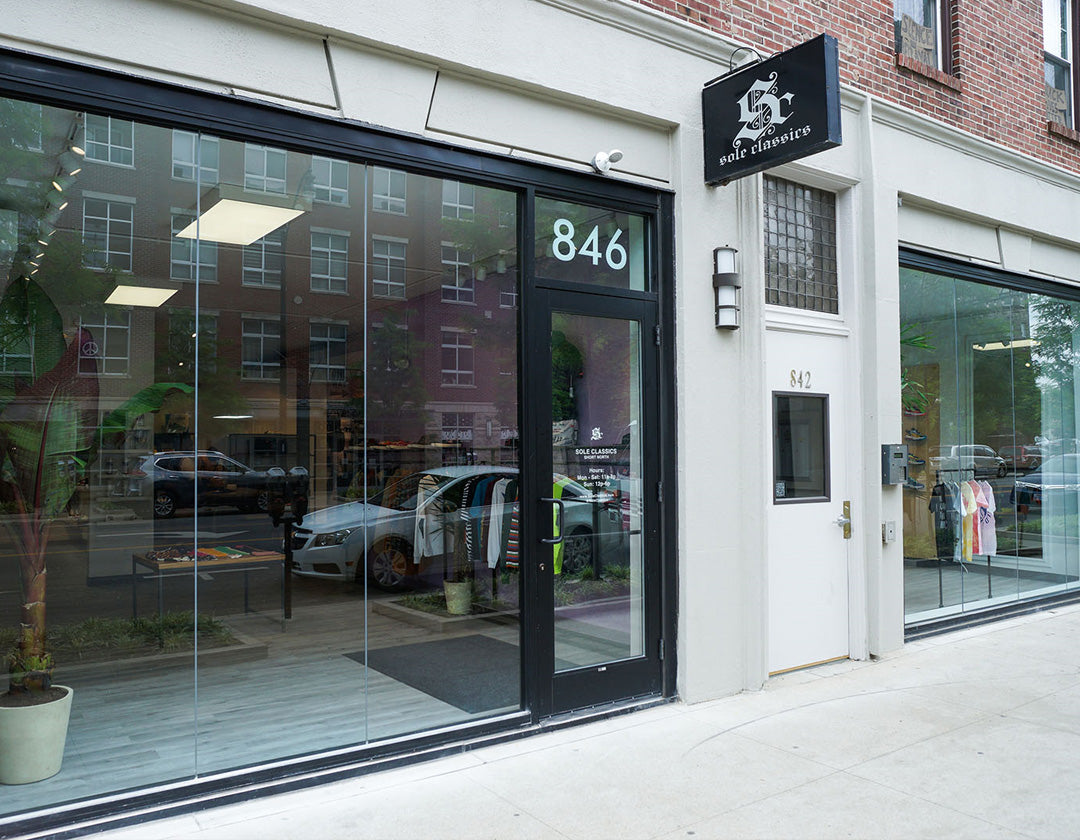 Building for the future
Shifting Directions
Change was in the air, and it was time to give the Short North location of Sole Classics a much-needed makeover. Dublin had set the bar high, and it was high time to bring the same level of style to Central Ohio. The catch? The challenge was as old as the hills, dealing with a century-old building showing its age. However, the team tackled it head-on.
After several months of intense renovation work, Sole Classics, previously occupying 848 and 846 N. High Street, was ready to embrace a fresh look in its new digs at 846 and 844. The space now boasted an open floorplan, elegant floor-to-ceiling windows, and a bunch of swanky new features. The new storefront quietly opened its doors just before the Christmas of 2019, though the project wasn't quite complete. And thanks to an unexpected global pandemic it wouldn't receive an official Grand Re-Opening until later in the Summer.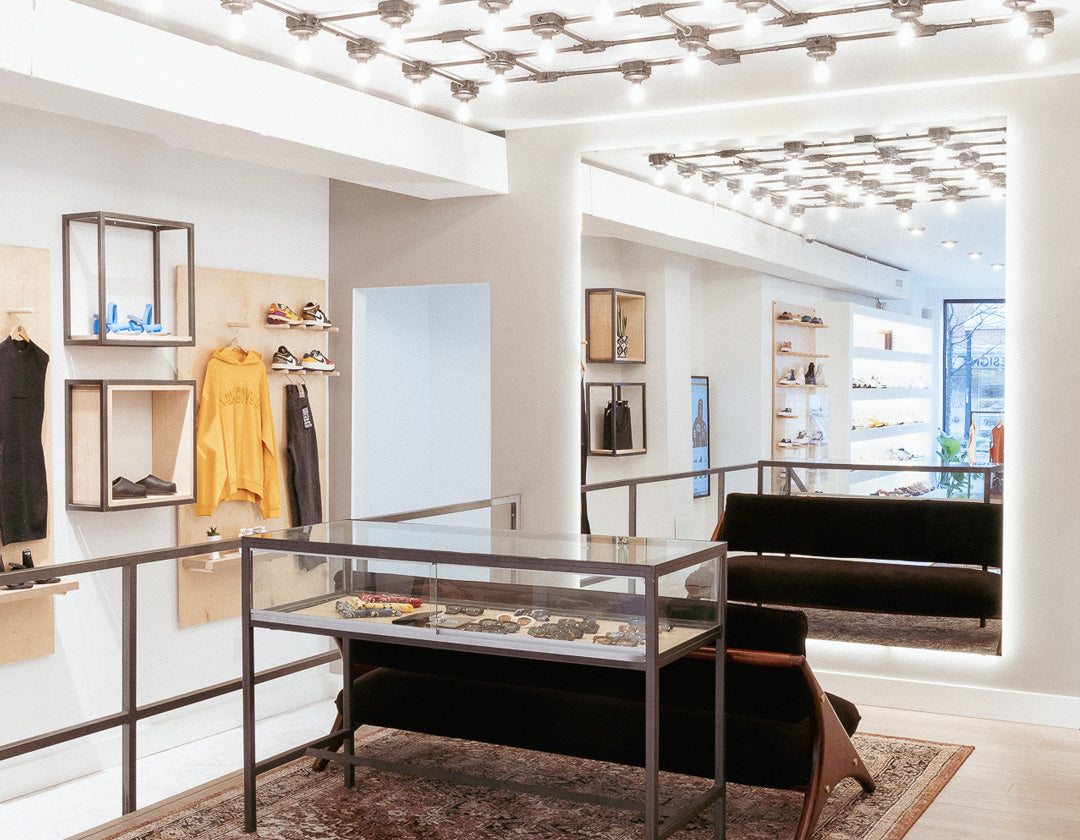 A new space for a familiar voice
For Her
Sole Classics embarked on the latest phase of its journey in the Short North area during the winter of 2022. This time around, the brand was able to reclaim and expand into its spot at 848 N. High Street with a fresh twist, introducing a brand-new space exclusively designed for women. Sole Classics Her, covering 1,200 square feet, radiates elegance and charm, offering a curated selection of the finest women's fashion brands and the trendiest footwear from around the globe.