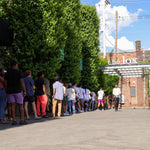 Community Releases: The Lox Bagel Shop
Sole Classics Community Releases allow us the opportunity to connect with, and support, our community through sneakers. Each month we partner with local small businesses and non-profits in the area on a footwear release with the goal of benefitting and bringing light to the good that their do in our community. 
This month we were excited to partner with @theloxbagelshop, one of our favorite places to eat in the Short North. Guests who visited their establishment were guaranteed the opportunity to purchase a pair of adidas Yeezy Slides in the size of their choice. Not one person who visited and made a purchase walked away empty handed. Thank you Columbus, and beyond, for participating in our Community Release initiatives. Whether you have participated locally, or from across the globe, if you've won, or struck out, just know that your contributions have helped so many.. and we are only getting warmed up. See you all in June.
Thank you to our past partners, and a very special to The Lox ownership and staff for a very successful launch this month.